I had the privilege to attend and present at
Digital Experience 2014
, an IBM event focused on the latest technologies, best practices, and the business benefits of delivering great digital experiences.
Though I'm still reflecting on the many great ideas expressed during the presentations, I wanted to put together a quick, day after list, encompassing both the serious and silly, of my immediate impressions.
10. A good way to explain Portal is to compare it to a tree.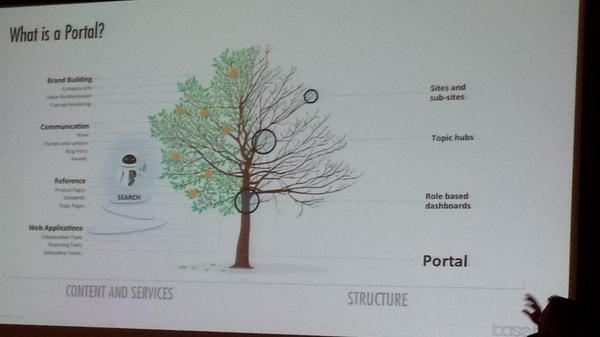 via
@benshoemate
9. California is having a historic drought. Thank you, IBM Digital Experience 2014 event organizers, for the reminder to conserve water.
8. Toronto is an incredibly diverse Smarter City: 240 ethnic groups, 169 countries of origin, 140 languages spoken.
via
@kristinaverner
7. There are 4.55 billion smartphone users in 2014.
via
@garydolsen
6. Contextualize digital experiences based on demographic, historical, and situational data.
via
@sa_powers
5. 50% of user experience is search.
via
@benshoemate
4. IBM employees have perfected remote working but enjoy the interpersonal synergies of conferences.
3. We may be in the Age of the Customer, but that doesn't mean it's easy to transition from cable without jumping through some hoops.
2. It may be too late to Apologize, but it's never too late for a rock star (
@MoveUpMedia
) to become a Portal Information Architect.
1. The color of 2014 is Radiant Orchid.
via
@IBMiCIO